Bankerlweg Hochwurzen
A hike for the whole family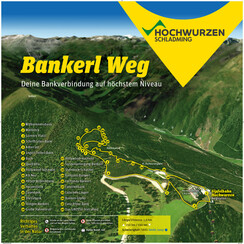 The hike along the Bankerlweg trail on the Hochwurzen is ideal for the whole family: You can take a leisurely stroll for around an hour, without any great differences in altitude, along the circular trail through shady, romantic forest paths up to the summit of the Hochwurzen at 1,850 metres.
You start at the summit station of the Hochwurzen cable car: Along the way, around 25 original benches invite you to rest and pause. Each bench is dedicated to a different theme, for example, you can take a seat on the bench for lovers, on the family bench or on the sunset bench.
Down the mountainside on a mountain go-kart
Back at the mountain station of the Hochwurzen gondola lift you can travel the 7 km back down the mountainside in a mountain go-kart. Riding a kart is great fun and an exciting alternative way of racing back down into the valley. Anyone who prefers to travel at a more leisurely pace can simply take the gondola lift back to the Hochwurzen valley station.