my Ski amadé Friends Club
my Passion. my Bonus. my Ski amadé
Our life is made up of so many fleeting moments and encounters. Therfore, relationships which go a little bit deeper and last a bit longer are all the more important. The new my Ski amadé Friends Club is for everyone who loves Ski amadé just as much as we do and you are true ski and snowboard winter sport enthusiasts. As part of the Ski amadé circle of friends, you have many great advantages and will always be the first to find out about our special offers and highlights from our newsletter.
Your my Ski amadé Friends Club benefits
Free Friends Card: Your personal my Ski amadé Friends Card, that you can recharge again and again
Family Member Card: The personalized ski pass for your family members
Personalized access to the Ski amadé Online Ticketshop
Benefits at the INTERSPORT Rent stores in Ski amadé

Ski test at a special price
€ 15, - Ski service at a special price
Shopping voucher of € 20,-
15% early booking bonus on ski rental until the beginning of December

Many special deals on ski passes and vacation packages with up to -25%
Exklusive partner specials:

-20% on the NAKED Optics winter assortment
-15% auf Sunnto sports watches
-15% auf Schöffel skiwear
Exclusive deals at Komperdell on ski poles and many more...

Safety first: Free slope rescue in the entire Ski amadé area (excl. Helicopter rescue)
Reach out to us Mon-Fri between 8.00 AM until 5.00 PM via our Friends Hotline:
+43 6452 4033360 and by email at my@skiamade.com
NEW: The KeyCard for family members - FAMILY MEMBER CARD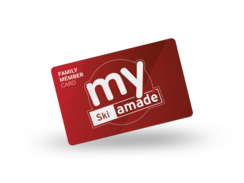 As my Ski amadé Friends Club member you can now apply for a KeyCard for your whole family, especially your kids, that is just as cool as the Friends Card.

With the new Family Member Card for € 5.00 per card, everyone only has their own KeyCard in their jacket pocket and you can conveniently buy the tickets for the whole family from home in the Online Ticketshop, load them on the Family Member Card and start your ski day directly on the slopes.