ASCENT AND DESCENT
Summer 2021
Ready for a summer visit to the Planai & Hochwurzen?
We will bring you up the mountain - either for a single day or an entire season.
Get information on season tickets here!
You can find the currently open attractions and lifts here
Planai Cable Car
Adult & Youth
EURO

Child
EURO

*Section 1: ascent OR descent
€ 9.50
€ 5.00
Section 1: ascent

AND

descent
€ 12.50
€ 7.00
*Section 2: ascent OR descent
€ 16.50
€ 9.00
Section 2: ascent AND descent
€ 22.00
€ 12.00
Dogs
(per ascent and descent)
€ 4.00
-
Sommercard holders have included a free ascent and descent per day. For the transport of mountain bikes an extra fee of € 6,- is charged with the Sommercard.
Group prices upon request!
*The Planai cable car consists of a valley station - middle station - top station. Therefore the tickets are split into sections. 1 section is from one station to the next, 2 sections are always between the valley & top station.
Hochwurzen Peak Lift
Adult & Youth
EURO
Child
EURO
Ascent OR descent
€ 12.50
€ 7.00

Ascent AND descent

€ 17.00
€ 9.50
Dogs (per ascent and descent)
€ 4.00
-
Group prices upon request!
Age requirements
Adult: Born in 2002 and older
Youth: Born between 2003 and 2005 (Photo ID required)
Child: Born between 2006 and 2015 (Photo ID required)
Infant: Born in 2016 and younger (Photo ID required)
Family bonus: From the third child in a family, further children and youngsters travel for free (official proof of family relationship, common personal residence, ticket purchase for at least one adult as well as the first two children and/or youngsters for the same validity period)
General ticket information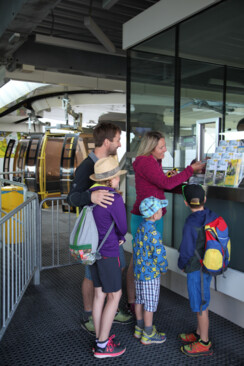 Tickets are personal and non-transferable.

Forgotten or lost tickets will not be replaced.

Refunds will be made only with a medical certificate from a local physician or hospital.

A reduced service offering does not confer entitlement to a reduction in the respective ticket tariff.

A restriction in the lift and piste offering is to be expected at the beginning and end of the season.

There is no right of withdrawal in the event of unforeseen departure of the customer, interruption in lift service, closure of individual lifts due to unfavourable weather conditions, closure of trails or overcrowding of ski pistes and lifts. There is no entitlement to a refund and the customer is not released from their payment obligation.

Multi-day tickets are only valid on consecutive days.

Information about additional ticket offerings is available from the lift ticket offices.

Information on special tariffs is available on request.
Subject to changes, typos and errors. All prices are in euros.