TOBOGGAN RUN AND NIGHT SKIING
Hochwurzen Peak Lift
A separate evening ticket is required for night skiing fun and evening tobogganing runs!
Single ride toboggan run day rate
Hochwurzen Peak Lift
Daytime rate (9:00 a.m. - 4:30 p.m.)
Adult & Youth
EURO
Child
EURO
Ascent
€ 18,00
€ 10,00
Hochwurzen night skiing & evening tobogganing
Hochwurzen Peak Lift
Evening rate (7:00 p.m. - 9:00 p.m.)
Adult
EURO
Youth
EURO
Child
EURO
Single ascent

€ 19,00

€ 19,00

€ 10,50

Evening ticket / person

€ 27,00

€ 20,50

€ 13,50
Hochwurzen evening season ticket
Adult
EURO

Youth
EURO

Child
EURO

Evening season ticket with no daytime season ticket

€ 259,00

€ 194,50

€ 129,50

Supplement for existing
day season ticket

€ 125,50
€ 94,00
€ 62,50
Age requirements
Adult: Born in 2002 and older
Youth: Born between 2003 and 2005 (Photo ID required)
Child: Born between 2006 and 2015 (Photo ID required)
Infant: Born in 2016 and younger (Photo ID required)
General ski ticket information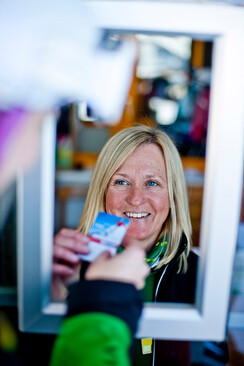 Tickets are personal and non-transferable.

Forgotten or lost tickets will not be replaced.

Refunds will be made only with a medical certificate from a local physician or hospital.

A reduced service offering does not confer entitlement to a reduction in the respective ticket tariff.

Multi-day tickets are only valid on consecutive days.

Advance sale and use of multi-day tickets is also possible from 3 pm on the previous day.

Information about additional ski pass offerings (i.e. student passes) is available from the lift ticket offices.

Information on special tariffs (groups of more than 20 people, students, people with a more than 70% disability, etc.) is available on request.

Restricted piste and lift operations are to be expected in the pre- and post-season and in the event of insufficient snow conditions.

Provided that Ski amadé and its member companies are working to capacity and the respective lift facilities are essentially in operation, the customer has no right to withdraw in the event of bad weather, danger of avalanches, unforeseen departure, interruption in lift service, closure of individual lifts or ski areas due to unfavourable weather conditions, closure of individual ski runs or ski areas or overcrowding of ski pistes. There is no entitlement to a refund and the customer is not released from their payment obligation.

The FIS safety rules must be observed.

A special evening ticket is required for evening tobogganing and night skiing.

The purchase of a ski permit entitles the holder to use the ski areas that comprise Ski amadé. Since the member companies of Ski amadé are legally independent, any liability for incidents that may arise in the use of cable cars, lifts and pistes lies exclusively with the company in whose ski area the incident occurs.
Subject to changes, typos and errors. All prices are in euros.