Ski enjoyment at later hours!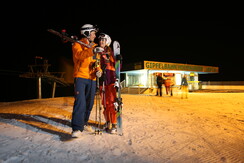 Night is turned into day on the Hochwurzen. Go night skiing on the freshly prepared 3 km long slope No. 33.
Enjoy the unique atmosphere at night, while our modern floodlighting equipment guarantees great visibility.
A separate evening ticket is required for the night skiing fun.
Evening operation Gipfelbahn Hochwurzen
from
until
days
operation cable car
December 25th 2023
January 6th 2024
daily
7:00 pm to 9:30 pm
(Last ascent and descent at 9:30 pm)
January 9th 2024
March 16th 2024
Tuesday - Saturday
7:00 pm to 9:30 pm
(Last ascent and descent at 9:30 pm)
March 20th 2024
March 30th 2024
Wednesday - Saturday
7:00 pm to 9:30 pm
(Last ascent and descent at 9:30 pm)
Opening hours toboggan run
7:00 pm to 11:00 pm
Here you find the Hochwurzen valley station