Ski enjoyment at later hours!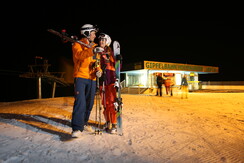 Night is turned into day on the Hochwurzen. Go night skiing on the freshly prepared 3 km long slope No. 33.
Enjoy the unique atmosphere at night, while our modern floodlighting equipment guarantees great visibility.
A separate evening ticket is required for the night skiing fun.
Evening operation Gipfelbahn Hochwurzen
from
till
days
opening hours
December 25th 2021
Beginning of February 2022
Monday - Thuesday
cable car: closed
floodlit piste & toboggan run:
from 5:00 pm till 8:00 pm
Wednesday - Saterday
cable car: from 7:00 pm till 9:30 pm
floodlit piste & toboggan run:
from 7:00 pm till 11:00 pm
Sunday

no evening operation

Beginning of February 2022
The times are still being clarified.
The huts will be open during evening operating hours from Wednesday to Saturday.
On Monday and Tuesday the Hochwurzen hut is open.
Here you find the Hochwurzen valley station