Opening hours winter season 2022/23
| Mountain | season start | season end | oparating hours |
| --- | --- | --- | --- |
| Planai | November 25th 2022 | December 1st 2022 | from 9:00 am till 4:00 pm |
| Planai | December 2nd 2022 | April 16th 2023 | from 8:15 am till 4:15 pm |
| Hochwurzen | December 7th 2022 | April 16th 2023 | from 8:30 am till 4:15 pm |
The current status in the mountain report >>
Please note that outside the operating hours and after the end of the season, the huts as well as the infrastructure on the mountain (e.g. toilets) are closed.
MOUNTAIN INFORMATION & WEATHER FORECAST
In winter as well as in summer the Planai & Hochwurzen areas in Schladming provide a wide range of experiences. Find out which gondola or chairlift will take you to the mountain and which attractions you can find in this ski and mountain bike paradise - have a look at the daily-updated Planai Mountain Report.
The sun in your heart... and on the mountains - you will also find the
latest weather
here!
Event calendar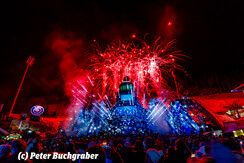 Be it the Ski Opening or the Night Race:
The Planai summer and winter events calendar is packed.
Find out here where you need to be in the next few days!