E-trial park -Trialstars
The E-Trial Park has finished operation for this summer season.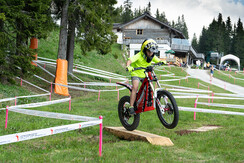 The new bike trend sport E-Trial has arrived at Schladming and on the Planai! Trial bikes are electric bikes and have no seat and a low frame.
This makes them perfect for making sensational jumps, balancing on natural obstacles like tree trunks or overcoming artificial ones, like stairs or wooden elements.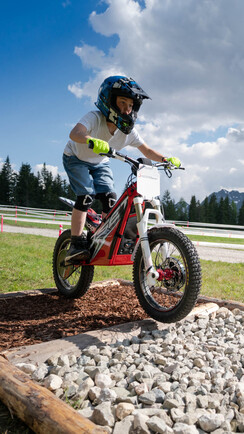 The new E-Trial Park Planai is not only a spectacular experience for trial-proficient bikers. The park, located on the Weitmoosalm, only 300m from the top station of the Planai Gondola, is offering three different practice areas (blue, red, black) which make the smallest and most inexperienced bikers feel right at home as well as offering a challenge for experienced trial bikers.
Bikes are available for kids and adults between 3-99 years. Introduction to the bikes and protective gear are available in the station at the Weitmoosalm.
Opening hours
| Seasonal time | Operation hours |
| --- | --- |
| September 14th until October 11th 2021 | Friday - Sunday from 10:00 am till 05:00 pm |
In case of heavy rain, fog, snow etc. the Trial Park will be closed.
The current opening hours are communicated daily on the Facebook & Instagram page.
Prices - including trial rental & protective clothing
Duration
Child
(3 - 7 years)
Sommercard
Child
Youth & Adult
(8 - 99 years)
Sommercard
Youth & Adult
15 minutes
€ 17.00
€ 14.00
€ 25.00
€ 20.00
30 minutes
€ 30.00
€ 24.00
€ 45.00
€ 36.00
45 minutes
€ 40.00
€ 32.00
€ 50.00
€ 40.00
Instruction and explanation of the bike is not included in the period of use, so the given duration is pure riding time.