Bikepark Schladming 2.0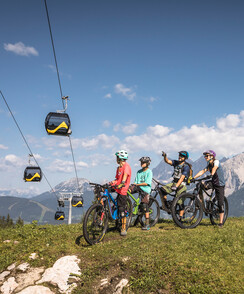 The 10-seater cable car takes bikers and their equipment quickly and comfortably to the top of the Planai and the start of the trails.
A varied range of trails leaves nothing to be desired in the Bikepark Schladming. Trails such as the Flowline, the Uphill Flow Trail and the Jumpline inspire both beginners and professional downhillers. A variety of downhill trails guarantee maximum biking fun for all pros.
NEW from summer 2022:
From the middle station it now also goes over a flowline down to the valley! The first section leads over waves and steep turns to the state road. From there, a completely new track is still under construction, but you can ride around it for a short distance on the main road. In the last section, it's also about a new trail directly into the Planai finish stadium.
Opening hours
The Bikepark Schladming is based on the opening hours of the Planai cable car. The routes are open during this time from 9:00 a.m. to 6:00 p.m.
The use of the Bikepark outside the opening hours is expressly prohibited!
Everything the Bikepark has to offer at a glance
Camp & Bike at Bike Camping Schladming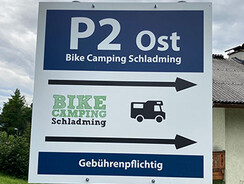 Especially for bikers, a campsite was built just 400 meters away from the Planai valley station. The parking space P2 east has a toilet container and can now be booked online at www.zirngast.at/bcs.
More information can be found here: www.zirngast.at/bikecamping
As an alternative: Try the bike trails on the Reiteralm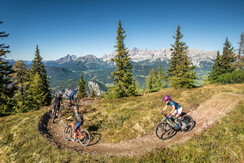 Another biking highlight of the Schladming-Dachstein Region: For all those who still haven't had enough despite the variety of routes on the Planai, there are an additional 15 kilometres of single trails on the Reiteralm. These are divided into two blue (easy) and two red (medium difficulty) routes.
Hike- & Bikebus Schladming-Reiteralm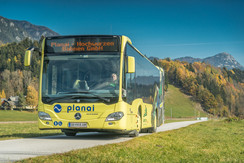 Between Planet Planai and Preunegg Jet there is a bus for hikers and mountain bikers 4 times a day. This makes it easy to get from Schladming, via Rohrmoos and the Preunegg Valley to the 8-seater gondola lift to the Reiteralm and back again.
The bus travels with a bike trailer so that bikers can also switch between the biking fun in the Schladming Bikepark and the Reiteralm Trails without a car. The bus ride is included in the bike ticket and the Sommercard.
Please note the stops for loading bikes.