Europe's brass music festival! July 13th until 18th 2021!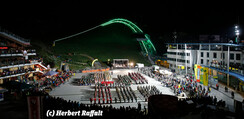 One of the most significant brass music festivals returns once again to Schladming.
More than 30 orchestras, with approximately 2,500 musicians are coming annually from around the world and the Schladming-Dachstein region echoes with their great concerts.
You can find all of the details on this event here: www.mideurope.at or on the Mid-Europe Fanpage!
Programme preview - July 13th until 18th 2021
TOP Highlights
Opening concert
The opening concert of each Mid Europe leads already at the beginning to an unforgettable musically highlight, if for instance world-known Big Bands with their up to 60 musicians are transforming the Congress Schladming into a magical surrounding for this kind of music. Next year the policeorchestra bavaria will enchant you early at the beginning and is going to open the next Mid Europe at the Congress Schladming.
Kids in concert
On July 14th you can enjoy the WYWOP-orchestra (world-youthorchestra project). Also at the Congress Schladming young, talented musicians from all around the world will give their best and provide a unique feeling.
Long night of music
Five stages, uncountable open air concerts, a fashion show, shopping until the late evening and a big lottery with nice prizes. At the long night of music in Schladming the night becomes day.
Hallconcert
On Saturday July 17th 2021 the WAWOP-orchestra (world-adultbrassorchestra project) will fill the Congress Schladming. As a complement to the WYWOP-orchestra the WAWOP gives all adults the opportunity to take part at Mid Europe. Since the participants are from different countries all over the world, the cultural exchange between the musicians is as important as the music.