Europe's brass music festival! July 11th until 16th 2023!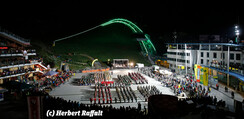 One of the most significant brass music festivals returns once again to Schladming.
More than 30 orchestras, with approximately 2,500 musicians are coming annually from around the world and the Schladming-Dachstein region echoes with their great concerts.
You can find all of the details on this event here: www.mideurope.at or on the Mid-Europe Fanpage!